ALS in the Nordic region operates three GMP-laboratories in Sweden with different areas of expertise:
A state-of-the-art metals laboratory for analysis of elemental impurities and trace/ultra-trace elemental testing
A laboratory in Sollentuna focused on microbiological testing capabilities within pharma and medical device
A facility in Landskrona conducting physical and chemical analyses as well as stability testing.
Samples should be sent directly to the performing laboratory. Please read more here.
ALS Scandinavia, Luleå, Sweden
ALS Scandinavia's custom built laboratory in Luleå, Sweden, is dedicated to elemental impurities testing and our personnel have decades of experience working with high resolution ICP-MS technique. Operating the most sensitive analytical technique available, we are able to offer analysis of elemental impurities well under established PDE (permitted daily exposure). Method development, validation and analysis at 15-20 % of PDE is routinely performed at the laboratory. Read more here.
ALS Mikrolab, Sollentuna, Sweden
ALS Mikrolab is today a leading microbiological testing facility with a broad portfolio of microbiological tests for the pharmaceutical and medical device industries. We are a reliable partner for both routine production units as well as R&D and development departments - From raw materials to finished products.
Our tailor-made facilities in Sollentuna, just outside Stockholm, are equipped with EU-GMP class A clean room for sterile activities and LAF benches for routine testing. We have a growing production unit for microbiological substrates and diognostic reagents.
ALS Mikrolab is the only microbiological laboratory in Sweden that is accredited under ISO-17025, certified as GMP and audited by the FDA.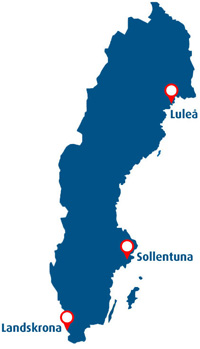 ALS Landskrona
ALS Landskrona performs a broad range of chemical analyses of raw materials, bulk products, intermediates and finished products. We offer a large portfolio of analytical services by GCFID, GC-MS, HPLC, IR, UV/VIS-spectrophotometry, fluorometry, ion chromatography and gel electrophoresis. The facility is qualified according to EU-GMP and is regularly audited by the Swedish Medical Products Agency.